Duke CE Leadership Series
Today, in a world of exponential change and complexity, our organization and leadership models, tools and practices are being stretched to their breaking points. Problems are more complex and change faster, leaders are more important than ever, but only if they are ready for what's next. Duke Corporate Education (Duke CE) has designed this Leadership Series as a complimentary opportunity for you to explore these challenges and new solutions with experts from Duke CE and our global educator network. Episodes are 45 minutes with time for Q&A. 
Upcoming Episodes
Episode 9: Putting Purpose Back into Business with Michael Chavez
Session Date: April 16 – 11:00 AM EST | 4:00 PM GMT – Register
In today's volatile, uncertain world, where strategy is becoming increasingly transient,  companies need to look to organizational purpose to provide a more enduring sense of direction. A clear and inspiring purpose can help employees navigate ambiguity and make decisions. And, it can also be a source of inspiration, answering the larger "Why?" question, which has become increasingly important in a world where employees value meaning as much as money. The leadership task, however, is not as simple as coming up with a great purpose statement.
In this complimentary webinar, Duke Corporate Education CEO and author of Rehumanizing Leadership: Putting Purpose Back into Business, Michael Chavez will share his and his co-author's research as well as their practical experience working with global companies on using purpose to increase strategic agility and build a more engaged, innovative workforce. Michael will speak to the principles of success in deploying your organization's purpose by embedding meaning and clarity at the team and individual level.
Join us, learn and contribute, and become a better leader.
Michael Chavez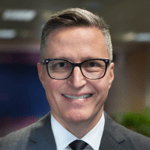 Michael Chavez is the CEO of Duke Corporate Education. He has over 25 years of experience in executive management, marketing, customer analytics and organizational learning.
He teaches on leadership and culture, and his research and writings focus on 'rehumanizing' leadership. He is an an educator in Duke CE's online course Building Strategic Agility, designed to help leaders be more agile and equip them with new skills, tools and instincts to navigate today's environment and build more strategic agility into their organizations. Michael is the co-author with Sudhanshu Palsule of Rehumanizing Leadership, your guide to building engaged, resilient and innovative organizations in the 21st century.
Past Episodes
Episode 8: Strategy in the Digital Revolution with Ryan McManus
Session Date: February 25, 2020 | View Recording
Today, every business is focused on digital transformation, yet most organizations are struggling to realize value from their efforts and investments. Less than 20% of business leaders believe their digital transformation efforts have been successful. With unprecedented access to data and technology, how is it that firms and their leaders are experiencing such disappointing results?
At the root of the problem is the disconnect between how leaders understand strategy and the new rules of the digital revolution. Most leaders haven't been taught how to think about a world that is very different from the one which gave rise to popular strategic concepts, and as a result they apply outdated strategy models and thinking to the new world, trying to squeeze the competitive realities of the digital revolution into linear, analog strategic planning concepts.
In this webinar, Ryan McManus, lecturer at Columbia University Business School and Duke Corporate Education, discusses the New Strategy Playbook, including:
The current state and evolution of the digital revolution, and what's next
The four levels of digital strategy: how you can adapt your approach to win
Why traditional approaches to strategy have reached their limits
Implications for leadership development
Watch the on-demand webinar to gain the latest insights and forward-thinking frameworks to help drive your organization's strategy for what's now – and what's next.
Ryan McManus
Ryan McManus is the Co-Founder and CEO of techtonic.io, where he guides organizations through digital transformation to become digital and data leaders and generate business results. Ryan has over 25 years of leadership and effective execution experience across digital transformation, corporate strategy, global operations, startups and corporate boards.
He is the author of numerous articles on digital transformation and corporate strategy and has served as an advisor to Fortune 500 companies, governments, technology startups and non-profits. Ryan is a member of the Board of Directors of Nortech Systems, the advisory board of CarLabs AI, and previously served on two advisory boards with the Aspen Institute. He is a sought-after speaker and teacher on digital transformation and growth strategy writ large, including leading executive education on the topic for the National Association of Corporate Directors,  G100, Columbia University Business School, Duke Corporate Education, and London Business School. Ryan earned his MBA from the University of Chicago Booth School of Business, has worked in over 40 countries and is fluent in English and French.
---
Episode 7: The Agile Dashboard with Joe Perfetti
Session Date: October 1, 2019 | View Recording
As executives, we use dashboards to monitor the performance and health of our businesses. Traditional metrics like sales, revenue, margin, return on equity and total shareholder return are common and important metrics. But today, in the age of disruption, do we need different, more forward-looking metrics to indicate if our business is agile enough to win the marketplace tomorrow?
The Agile Dashboard was developed to help organizations address this gap by creating a set of more forward-looking, predictive metrics centered on: Speed, Interactivity, and Pivot. This session will explain why speed, the level and type of interactivity with customers and the external environment and the ability to pivot are the building blocks of agility. We will also provide the metrics for each and share examples of their applicability in organizations.
Join us to learn more and contribute to this important topic for leaders.   
Joe Perfetti
Duke CE Innovation Fellow &
Leading Expert in Corporate Finance and Strategy
A graduate of the Wharton School of the University of Pennsylvania, Joe currently serves as a Lecturer at the R.H. Smith School of Business at the University of Maryland and has won the Distinguished Teaching Award and Top 15% Teaching Award for teaching excellence. Joe delivers programs for Duke Corporate Education and serves as an Adjunct Professor at Georgetown Law School where he teaches corporate finance. Joe is a professor in Duke CE's online courses on Building Financial Acumen and Building Strategic Agility.
---
Episode 6: Seeing Around Corners: Spotting Inflection Points in Business Before They Happen with Rita McGrath
Session Date: August 20, 2019 | View Recording
What is strategy in an age of exponential change? And, how do we ensure our organizations are agile enough to see and seize the next wave of value?
During this webinar, you will learn:
Key ideas from Rita McGrath's upcoming book, Seeing Around Corners
Why businesses must become strategically agile, constantly adapting to catch the next value wave
How leaders can develop the skill to see early signals of change and prepare their organizations to act quickly
Rita McGrath
Globally-Recognized Expert on Strategy and Innovation
Rita Gunther McGrath is a world-renowned thought leader and a professor at Columbia Business School, where she directs the popular Leading Strategic Growth and Change program. She is widely recognized as a premiere expert on leading innovation and growth during times of uncertainty.
---
Episode 5: Futureproofing Organizations for Digital Disruption
Session Date: February 21, 2019 | View Recording

Every industry faces new realities in the digital future. Business models and practices that have been tried-and-tested in the industrial age may not work going forward. Your competitors in the future are not only those companies that you have competed against in the past. Companies that are "digitally-born" bring new competencies rooted in digital technologies. Futureproofing is about preparing your next-generation leaders to recognize and respond to these shifts and prepare for a digital future. This webinar will help you understand key futureproofing concepts and ways to put them into action.
Hari Nair
Advanced Leadership Fellow, Harvard University

Leading practitioner of innovation and corporate transformation with over 25 years experience in multi-national companies (P&G and Kimberly Clark). He is the former Chief Strategy & Innovation Officer of Sime Darby and was a Partner and VP at Innosight, a firm founded by disruptive innovation expert Clayton Christensen.

N Venkat Venkatraman
Author of The Digital Matrix
He is the David J. McGrath Jr. Professor of Management at the Questrom School of Business, Boston University and is considered a foremost authority on digital innovation.
---
Episode 4: The Future of Learning: Learn to Work
Session Date: November 28, 2018 | View Recording
We must move from learning in order to work to working in order to learn continuously and prepare ourselves for the unknowns of continuous change. The fourth industrial revolution liberates us from the work of processing and executing routine tasks best done by the machines. This shift in work places pressure on us to rethink our systems of work and learning, and even how we describe work itself. We should now think of work as learning or capacity building. In this view, the creation of products and services provide evidence that learning and capacity-building are taking place. On the webinar, we'll discuss how to re-imagine the career arc, and re-think and re-tool our organizations for a very different future of work and learning.
Heather McGowan
Recognized as the 2017 #1 global voice for Education on LinkedIn media network, Heather McGowan is an internationally known speaker, writer, and thought leader. McGowan prepares leaders to most-effectively react to rapid and disruptive changes in education, work, and society. As a Future of Work Strategist, Heather has worked with diverse teams to address these challenges. Recognizing that business innovation begins with education, specifically learning faster than your competition, she has worked with university presidents and corporate human resources managers to prepare both graduates and workers for jobs that do not yet exist. She was the strategic architect of the Kanbar College of Design, Engineering, and Commerce at Philadelphia University (now Jefferson), the first undergraduate college explicitly focused on innovation. At Becker College, she crafted the Agile Mindset learning framework used to prepare students to work in an uncertain future. She assists corporate executives in rethinking their business models, teams, and organizational structures to become resilient in changing markets while helping academic, nonprofit, and foundation leadership rethink education and philanthropy. Her clients range from start-ups to publicly traded, Fortune 500 companies, including Autodesk, Citi, The World Bank, and BD Medical. Often quoted in the media, notably by NYT columnist Thomas L Friedman for her thought leadership in the Future of Work, McGowan also serves on the advisory board for Sparks & Honey, a New York-based culture-focused agency focused on the future for brands.
Chris Shipley
A leading technology analyst for more than 25 years, Chris Shipley is passionate about entrepreneurship as the driver of innovation, economic growth and restorative sustainability. She has built a career identifying innovative startups that create markets and drive positive and disruptive change. As the executive producer of the DEMO conference from 1996 to 2009, Chris helped more than 1,500 companies make their market debut. If those companies were a portfolio, they would have a combined market value of more than $60 Billion.
Chris began her career at Ziff-Davis, where she worked as a writer and editor for 12 years before joining International Data Group (IDG) to lead DEMO. Chris co-founded two companies, including the startup media and consulting firm Guidewire Group. She now consults with growth-stage startups around the world, and is the head of business strategy for Pittsburgh-based startup Sparkt.com.
Her work has won numerous citations, including the prestigious SVForum Visionary Award in 2010. She is a board member and advisor to a number of high-impact early stage companies. Chris holds BA degrees in Literature and Communication Arts from Allegheny College in Meadville, Pennsylvania.
---
Episode 3: Get Ready to Launch Your Next Innovation
Session Date: September 6, 2018 | View Recording
Learn how to tackle your own launch  – whether it is launching a new idea, project, business or career. Launching anything successfully means changing the status quo and overcoming uncertainty. Successfully navigating the challenges associated with launching something new requires clarity of purpose and intentionality.
In this session, thought leader Sanyin Siang shares examples and lessons from industry leaders and the sports world including, Apple, HP, and the NFL. Learn from her experience as a coach to leaders around the world and the smart practical field guide contained in her award-winning book titled, The Launch Book: Motivational Stories to Launch Your Idea, Business or Next Career (LID Publishing, 2017).

Sanyin Siang
Executive Director at the Coach K Center for
Leadership and Ethics
Sanyin Siang is the Executive Director of the Fuqua/Coach K Center on Leadership & Ethics (COLE) at Duke University's Fuqua School of Business and a professor with Duke's Pratt School of Engineering. She is an advisor for GV (formerly Google Ventures), Duke Corporate Education and the Sports Innovation Lab, and she is a senior fellow with Dan Ariely's Center for Advanced Hindsight. Her thought leadership has appeared in Forbes, Fortune, The Wall Street Journal and CNN. She is a LinkedIn 2017 Top 10 Influencer with 930,000+ followers and was named to the 2018 Thinkers50 On the Radar list. She has served on boards of startups and nonprofits including the National Board of the Duke Children's Hospital & Health Center, the Governing Board of the Emily Krzyzewski Center and the Museum of Life & Science. Sanyin received a BSE in Biomedical Engineering and an MBA from Duke University. She is a mother of three, ages eight and under.
---
 Episode 2: How Successful Leaders Manage Collaborative Overload
Session Date: May 22, 2018 | View Recording

In this Leadership Series Episode learn how high performing organizations and professionals harness the power of networks to innovate, execute AND gain 20% of their time back by avoiding the pitfalls of collaborative overload.
Why: The collaborative intensity of work has exploded over the past decade. Most knowledge workers or leaders spend 85% or more time in a given week on email, in meetings and on the phone. Some factors contributing to this include the transition to matrix based structures, increased complexity of products and services, globalization, email proliferation and adoption of collaborative tools and social media. This places an enormous – and invisible — cost on organizations and people. Technology, demanding bosses, needy clients and inefficient co-workers are problematic. But for most of us, these time drains are matched by another enemy – ourselves.  While there is undeniably a more demanding reality today, much of the problem is driven by how we decide to structure that reality or let our calendars and "to do" lists look like someone else's idea of fun.
What: Over the past eight years, Rob Cross has been involved in qualitative and quantitative research across 50+ firms addressing how organizations and professionals harness networks to innovate, execute and manage collaborative overload efficiently.
Rob Cross
Edward A. Madden Professor of Global Business at Babson College and faculty in Duke CE's Global Educator Network
For almost twenty years, his research, teaching and consulting have focused on applying social network analysis ideas to critical business issues for actionable insights and bottom-line results. He has worked with over 300 leading organizations (companies, government agencies, and non-profit organizations) across industries on a variety of solutions including innovation, revenue growth, leadership effectiveness and talent management. Ideas emerging from his research have resulted in three books, the most recent one titled, "Driving Results through Social Networks." Rob has written over 50 articles, many of which have won awards. In addition to top scholarly outlets, his work has been repeatedly published in Harvard Business Review, Sloan Management Review, California Management Review, Academy of Management Executive and Organizational Dynamics. His work has also been featured in venues such as Business Week, Fortune, The Financial Times, Time Magazine, The Wall Street Journal, CIO, Inc. and Fast Company.
---
Episode 1: Designing Organizations for Digital Disruption
Session Date: April 10, 2018 |  View Recording
Technology is rapidly disrupting how we interact and work. As a result, our organizational structures are becoming outdated and need to be more agile to respond to these shifts. Justin Ferrell, an experienced educator and creative practitioner, will explain how we can learn from digital user behavior to design creative and agile teams that enable the organizations. This human-centered approach is the foundation of expert Justin Ferrell's approach to  building organizational and team change.
In this leadership series episode, we offer attendees information and thought-provoking insights on designing organizations and teams for digital disruption:
Why: The nature of organizational systems is evolving, from hierarchical models rooted in the assembly-line Industrial Age, to emergent ones accelerated by the Digital Age.
What: In an emergent model, leaders inspire diverse teams to co-create unimagined outcomes in the space beyond their silos. Unimagined outcomes, by definition, can lead to a redefining of the ecosystem — the disruptive innovations that change the world.
How: You can use design thinking to redesign/reimagine your organization and teams to navigate this emergent and disruptive reality.

Justin Ferrell
Creator, collaborator and educator
An experienced teacher, facilitator and creative practitioner, Justin has led innovation sessions for prominent organizations including Colgate-Palmolive, Dow Jones, Facebook, Fidelity Investments, Google, HP, Infosys, Nedbank, NRK, SAP, The Aspen Institute, The New York Times, The United Nations, the U.S. Department of State and the World Economic Forum. He also teaches execu­tives at the Stanford Graduate School of Business, and has worked with executive education programs at Aalto Univer­sity in Finland and EGADE Business School in Mexico. The former director of digital, mobile and new product design at The Washington Post, Justin also teaches graduate courses in design thinking and organization design at the Institute of Design at Stanford ("the d.school").