How Harley-Davidson brought its biker brand to India
Harley-Davidson's Anoop Prakash describes how the motorcycle company brought its legendary brand to India and made it relevant to consumers on the subcontinent. 
Harley-Davidson's brand can be described with just one word: iconic. The very mention of the name conjures up images of James Dean or Steve McQueen living the American dream and powering off on their bikes down an open road towards exciting new horizons.
In fact, the image of the Harley rider oozes the idea of power, authority and freedom; and the popular slogan "God rides a Harley", while controversial, certainly positions the bike as a product of choice.
Fans of the bike have popped up in unexpected places – Pope Francis famously sold his own Harley- Davidson for $327,000 earlier this year at a Bonhams auction in Paris. The price far exceeded the $16,000 to $22,000 pre-sale estimate. A leather Harley-Davidson motorcycle jacket signed by the pontiff also sold for $77,485 this year.
The company culture is strong; it's a case study in branding and it's fair to say that few companies could boast as many fans that have their logo tattooed onto their very skin as Harley.
John Russell, who was formerly the European managing director of the company, once famously said: "Harley-Davidson sells to 43-year-old accountants the ability to dress in leather, ride through small towns and have people be afraid of them."
In short, Harley-Davidson is very clear about what it is selling; and that's not necessarily just bikes; it's an image, an experience and a lifestyle. It is essentially selling its brand to people.
But in 2009, the company faced a new and daunting challenge – to enter the Indian sub-continent; a country with an equally strong myriad of cultures, far from the "American dream'"– at least that described above – both geographically and metaphorically.
This was a country where Harley faced a very real threat that its established iconic brand could actually work against it.
Anoop Prakash, who was selected to head the company's expansion on the sub-continent as MD of Harley- Davidson India, explains: "In India in 2009, there was a high brand awareness of Harley-Davidson, but awareness does not always translate to relevance. There were broad misconceptions about Harley-Davidson customers, originating from the pop culture stereotypes of Arnold Schwarzenegger and Hells Angels on one hand, or older white men with beards, bellies and tattoos on the other.
"In India, the classical concept of the open road was also challenged, so we had to change perceptions by actively demonstrating the relevance of the Harley lifestyle."
Prakash, was a man with a more than ambitious plan. But he had the varied experience to back up this ambition, having served as deputy chief of staff on former US President George W. Bush's Department of Housing and Development, promoted trade and entrepreneurship at the US Small Business Administration and worked in corporate roles including VP of strategy and development at LexisNexis and business development at Siebel Systems.
"I had a variety of experiences that together helped me navigate the challenges of this role – working in the public sector, building new businesses, retail strategy, and sales and business development. I also had broad Asia exposure, through consulting projects in India and as part of a US trade delegation to China," he explains.
But how much of a Harley fan was Prakash himself?
"I grew up in the Midwestern US," he adds. "And there is a strong passion for Harley-Davidson there. When the snow melts in the spring, the highways around my home would be covered with Harley owners enjoying riding season. Later, when I was in the Marine Corps, I again witnessed the fan following – there is a real affinity for Harley-Davidson across the armed forces, which goes back to the role Harley's played in WWII." He laughs: "I didn't ride before I joined the company – so I took a Harley Davidson Riding Academy course and received my license. I think it's critical that I learned right away, because that's one of the great traditions at Harley: we ride with our customers, and are often customers ourselves, allowing us to better understand the customer experience."
However, he describes his move to the company as "mystical."
"As a first generation Indian American, I always had an itch to go back to India for some time and connect with relatives, and live in the city in which my parents grew up. Purely by chance, I was speaking to a former classmate of mine from business school who was at Harley at the time, and he mentioned that Harley was working on a plan for India. He introduced me to the Asia-Pacific leadership, and the rest is history. I found I had many common connections with some of the key executives and of course shared the same Midwestern upbringing and values. It was a great fit in both directions." And so, against the aforementioned challenging backdrop – and with an experienced and enthusiastic leader in place – Harley set itself the challenge, not merely to sell bikes on the sub-continent, but to build them on site.
Prakash explains: "Harley-Davidson drew upon previous experiences in developing its strategy for India. For example, we have a subsidiary in China today, but when we launched there we had a sales office, and worked directly with dealers for import and distribution. While this allowed us to reach customers, distributors tend to operate with a short-term view of the business. A subsidiary structure provides the advantage of positive control of the brand and customer experience, which in the long-term is a good return on the investment."
Harley-Davidson India is a wholly owned subsidiary of Harley-Davidson Inc and commenced operations in August 2009.
"In India, we established a subsidiary from day one – allowing us to guide the business and brand with a long-term view in mind. There were two major challenges in driving the business forward in India," explains Prakash. "The first challenge was to make the brand accessible given the import tariffs and taxes made the price point of a Harley motorcycle in India almost double the price in the US.
"The second challenge was to meet the world class customer expectation – and generally speaking, Indian dealers were not known for delivering the high levels of customer service we wanted to achieve. Thankfully, with more and more premium brands entering the market, this trend is changing.
"One of the key strategies toward greater accessibility was the establishment of assembly operations, allowing us to assemble motorcycles from Complete Knockdown (CKD) kits imported from our US plants, thus lowering the import tariff and ultimately the retail price."
And true to its word, Harley started putting motorcycles together at its assembly unit in Haryana in 2011.
Prakash picks up the story. "The initial assembly operations started in 2011 when we started assembling three models from our Sportster family," he says. "We added a further three models from the Dyna family in 2012, three more from the Softail family in 2013. And in 2014, we launched a new global platform called the Street 750, which will be built in the US and India. The India-built motorcycles will be exported to Europe and Asia. Each of these investments created greater accessibility, which helped spur our growth." And moving to address the branding hurdle, he adds: "Harley-Davidson is an American company and Indians had a long-standing affinity for American brands, such as Levi's and McDonald's.
"When we launched here, rather than spending too much energy on advertising, we felt it was a better investment to create events that could provide on-the-ground demonstrations of our lifestyle and culture. We wanted to help local people see the relevance of Harley-Davidson to their own lives. Although we were a 'foreign brand' when we opened our assembly plant, we were telling Indian customers: 'We are here to stay and invest in the market – not just to import and sell'.
"We wanted to make it clear that this was a long-term investment for us and inspire confidence in the brand and the purchase. This was particularly important, as other motorcycle brands had entered as importers, only to face challenges and exit the market (like BMW Motorcycles, who has since re-entered) or terminate their distributor (like Ducati, who will re-enter next year). Our investment in a subsidiary, an assembly plant and in appointing a strong dealer network built trust with Indian enthusiasts."
Just taking a look through Harley-Davidson's press cuttings for 2013 alone shows how hard Prakash and his team have worked to nurture a love of biking in India. It is full of pictures of groups of riders cruising along India's roads, or testimonials from customers putting to bed the Schwarzenegger stereotype.
"We had what we called 'Founders' Rides' where we asked the earliest owners to come ride with us at our new dealership openings – it created excitement and gave the local community a sense of the lifestyle they could now access," says Prakash. "We also launched a rock music property with Rolling Stone magazine called 'Harley Rock Riders', which were a series of 'rock rallies'. We are providing a stage for independent Indian rock bands to showcase new music and we're spreading these around India – bringing together our love of bikes and our commitment to the Indian rock music scene – a further demonstration of the global lifestyle in a locally relevant way.
"Last year, the event was set up as a competition where consumers voted for their favourite new band and the winner will perform this year in front of more than 100,000 enthusiasts at the European (Harley Owners Group) HOG Rally in Austria."
But in spite of the innovative marketing and PR the company has carried out to translate Harley into India, Prakash is adamant that resilience and focus in the face of scrutiny has always been paramount in his approach. He explains: "Most importantly, we have to have belief in the universal values of freedom and independence our brand represents, and the transformative effect it has on our customers. We will always have naysayers who say the roads aren't good enough in India for Harley-Davidson or the bikes are 'too heavy' for Indian riders. We have to constantly work to position the product and lifestyle as accessible to a broader group."
And in order to find out what is accessible to the Indian markets and other key markets, the company has had to do its homework and carry out expansive research into consumer behaviour. In fact, during the development of the new Street 750 & Street 500 models, the company carried out detailed focus group studies of 3,000 people globally, and 500 of the respondents were from India.
Data suggests China is the largest two-wheeler market in the world, with India not far behind selling more than 13 million two-wheelers last year. Of these, 80% are motorcycles, as opposed to scooters (data sources: Society for Indian Automobile Manufacturers – www.siam.in).
Prakash explains: "India has a rich motorcycling history and culture where people enjoy travelling and socializing together in groups. Economic development has led to middle class growth here and an increase in leisure time. We are talking to people about using this free time for self-expression and re-discovering their true passions. For many, that includes fond memories of riding an old Yamaha or Yezdi in college, for others they are riding for the first time.
"Consumer data has been vital to us as we develop our business in India. It has helped us measure our brand awareness, how we are perceived against other companies and our customers' preferences and attitudes. When we first entered this market, we didn't know who our customer would be. But we carry out detailed research – for instance, who are our customers? What do they read? Where do they go?"
"This allows us to hone in locally – if we had positioned ourselves strictly based on our initial price point as a luxury product, we would have failed – because it's not in our DNA. Instead we had to find the balance between being premium, while being accessible."
And does he believe the company has been successful in its Indian expansion?
"I think it's been incredibly good looking back," he says. "We've been here for four-and-a-half years now and we made smart investments early on. Our volumes are growing and we have 1.3 million fans on Facebook in India – second only to the US."
In fact, India is now has the third largest Harley-Davidson manufacturing operation on earth, after the US and Brazil. But in spite of this exponential growth and a bright future, Prakash is under no allusions that the story is finished – on the contrary, he believes there is much more work to do.
"There is now a strong brand awareness and an appreciation of the lifestyle and product here," he says. "But we are continuing to work on developing the strong brand awareness and this involves constant outreach.
"I would say we're starting to see the potential now. We will launch the Street 750 in India this year – a Harley-Davidson for the next global generation. This will bring the entry price within reach to many younger enthusiasts and provide a platform for new growth.
"Branding-wise, there is a lot of awareness in the 15 biggest cities, but we want to target the tier-two and tier-three cities. We have mostly communicated in English up until now, but we want to talk in the vernacular media and position ourselves slightly differently there."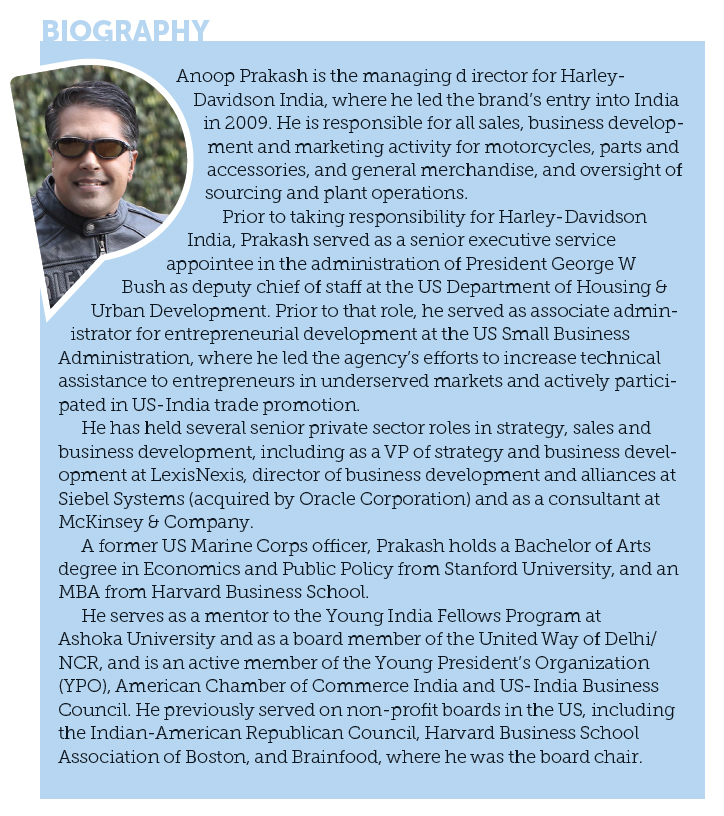 As Dialogue's interview with Harley's "man in India" comes to a close, it is evident that his management style embodies the qualities that his company's product also boasts – speed, agility, strength, determination and resilience. But in the same way that new technologies improve and enhance the bikes, Prakash wants to evolve and enhance both his own leadership style and the performance of the company.
"This job is measured beyond spreadsheets and sales reports," he says. "It's about listening to customers. The best part of my job is when people say to me: 'Thank you for bringing Harley-Davidson to this country and changing my life.' On the flip side, the worst day is when a customer will tell me we haven't lived up to their expectation– this is what drives us every day.
"For this reason, talent is important and you need to have the right (and resilient) people around you, who are endeared with the company's values globally. It can't be a case of India v HQ, and the experience has to be consistently world-class in every market, every time."
In this vein of flexibility and agility, Prakash's leadership style is not just about grit and determination in facing the mammoth task of "breaking" a new market with an established product, but also about challenging the leaders in his own company and telling them when a strategy won't work in his region.
"Harley-Davidson is 110 years old and we do many things very well – but it's important to challenge the status quo and orthodoxy when you know a market operates in a different manner than what has worked elsewhere. There is also a need to segment emerging and developing markets from mature markets at times to ensure the right approach is being taken and for the right reasons," he explains.
But on the other hand, Prakash puts a lot of belief in the company's established culture in planning the growth of his own branch of the business.
He says: "I believe in the power of the alignment of our business and the long-term plan. There was never a doubt in any of the leaders' minds when we set out here and this allowed us to have a strategy that the whole company stood behind – we needed to have this or we couldn't have broken through."
In fact, current Harley-Davidson India could be described as similar to that iconic referred to at the opening of this interview: a strong product riding out into the unknown – albeit with a clearly defined roadmap – and it's Prakash and his team who are powering this machine forward down the Indian open road. This journey has just begun and it is one that leaders and managers around the world will be following with interest.
An adapted version of this article appeared on the Dialogue Review website.